For the past 2 years, it has been a challenging time for manufacturers all around the world. The supply chain disruptions due to the Covid pandemic and Brexit on its close heel highlighted once again how interlinked supply chains are globally, affecting both supply and demand.
While things started to stabilize toward the end of 2021 owing to lockdown restrictions being lifted in most countries, global instability and inflation resulted in an irregular flow of raw materials and finished consumer grounds. And the packaging industry too is being subjected to inflationary pressure and its supply chain remains vulnerable to cost increases.
Rabobank forecasts continued inflationary pressure on packaging materials through 2022
In light of the Russia-Ukraine war, Rabobank's report provides the 12-month inflation outlook in North America for packaging materials, including plastic, paper, glass, and aluminum.
The US packaging industry, like other countries, has recently struggled to keep pace with strong consumer demand. Fueled in part by increased ecommerce packaging requirements and other abrupt marketplace shifts brought on by the COVID-19 crisis, the call for packaging materials has at times exceeded production growth within the industry. Unfortunately for the long-term health of the US economy, climbing costs in unusually tight packaging industry are being pushed even higher by rising inflation.
Already facing higher energy, transportation, and labor costs, manufacturers and contract packagers are also feeling the effects of global events, such as the war between Russia and Ukraine.
According to the Rabobank study, for example, high European energy costs and other global supply chain factors will contribute to food packaging price increases in North America during the next twelve months.
In their effort to meet brisk consumer demand, US packaging companies have encountered inflated operating costs across key materials, including aluminum cans, PET milk containers, and corrugated boxes. Although related packaging costs have partially spiked in response to the surging 14.3% growth in ecommerce sales since 2020, the impacts of inflation are also apparent within the packaging industry.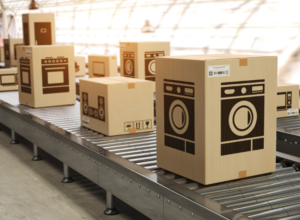 For instance, US corrugated containerboards have experienced only a half-dozen price adjustments in the past decade; the materials have seen five price increases in the two-year span since the onset of the pandemic.
With energy inflation on the rise, paper packaging production costs are expected to grow by at least 3% due to petroleum price increases alone. And related transportation costs are expected to add a further 2.3%-3.6% inflation premium to the cost of packaging. Even cornstarch, a relatively limited papermaking ingredient, must be accounted for, as corn prices continue rising under the strain of high demand and global instability. According to the Rabobank report, corrugated price increases may soar into double-digits during 2022.
What's causing this trend
Ukraine-Russia war and concerns about it escalating are creating further instability in global supply chains, driving up energy prices and inflating the packaging costs. There is also a supply gap in products that have previously been sourced from Ukraine.
Timber exports from Ukraine and Russia are valued at approximately €12 billion, so this will have a significant impact on the pulp, paper, and corrugate industries. This will put yet more pressure on existing supply chains and could lead to product shortages, as well as an increase in lead times.
Sanctions on Russia and embargos on Russian Oil and Gas are inflating energy costs and driving up the costs of manufacturing, particularly in energy-intensive industries such as paper and plastics (which also contain oil). For instance, it's been reported that paper mills in Italy have already stopped paper production due to increased manufacturing costs involved.
It all means that there are fewer materials to go around and less manufacturing being done so people are willing to pay more to obtain them. Consequently, packaging prices are expected to inflate throughout 2022.
A huge spike in online shopping pushed corrugate demand through the roof, with the equivalent of 5 years of growth in 2020 alone. Polymers have also been in short supply as PPE manufacturing increased. A shortage of shipping containers also drove up shipping costs significantly too, driving the average cost of a container, adding another challenge to the market.
You don't need to work in procurement to understand that these factors mean prices everywhere are volatile and the cost of packaging will rise.
Business leaders would generally prefer a predictable economic environment and consistent results at every level of the supply chain. At the same time, adapting to short-term price increases and overcoming temporary supply disruptions are common concerns for seasoned professionals working in production, packaging, and logistics. However, despite their experience in these areas, even well-prepared operators have struggled under recent conditions, facing unprecedented financial pressure from multiple fronts.
Labor shortages, supply chain disruptions, and unrelenting consumer demand have all taken their toll on packagers and manufacturers since. Higher prices on raw materials and energy have elevated production, transportation, and packaging costs, forcing manufacturers to pass on higher prices to consumers.
Although packaging manufacturers cannot entirely avoid the high cost of doing business, supply chain resilience, expanding production capacity, and smart sourcing alternatives offer solutions to withstand packaging supply chain inflation.
Machine Dalal platform is preferred by the buyers and sellers from the global print industry to get directly connected with each other and trade their machinery.
Visit the Machine Dalal website or simply download our app onto your  Android or iOS smartphone.